FREE DOWNLOADS BACK TO DOWNLOAD SHOP
How to Download
1. Add items to your shopping cart.
2. When you're ready, click View Cart/Checkout. Payment can be made
by PayPal or any credit card. You'll be transferred to the Paypal site
because they are my card processor. You do NOT need a Paypal
account to use your credit card on this service. They may ask you if
you want to set up a Paypal account. but you will just fill in your credit
card information instead, and continue through the checkout process.
3. After payment has been completed, you may need to click the button
"Back to Merchant" or "Back to Hiller Productions". The following
window should appear. Click the button to complete your order.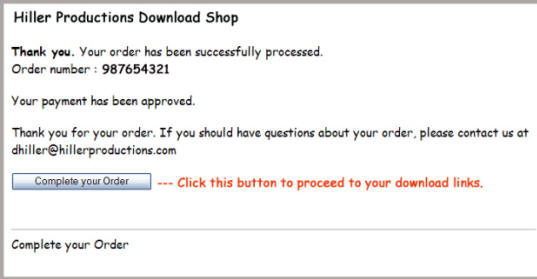 4. Click the button, and your link page will open --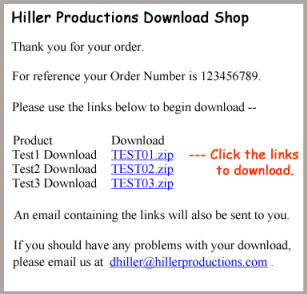 5. Click the links to download. Depending on your browser, you might want to
Right Click to open in a new window or tab. Most computers will send the
downloaded file to the Download file on your computer.
6. You'll also receive two emails. One email will thank you for payment. The
second email will contain the download links.
** Computers act silly sometimes. If for any reason you have problems, just
email me so I can help.
~ NOTE ~

Be sure you enter your correct email address.
Depending upon the type of email client you are
using, you may need to check your junk or spam folders.
Download links expire in 24 hours, so
be sure to save your downloads to your hard drive.
I also suggest you make a backup copy.